Indoor Soccer league Program Description
Boswin Indoor Soccer(futsal) league will be centered on a player centric model. The games will be played via small-sided-games in our early age groups. This is to ensure that ALL players are involved in the game and fewer players are sharing the ball, which will allow more touches on the ball for each player regardless of body size or soccer experience.
What is Futsal
The origin of Futsal can be traced back to Montevideo, Uruguay, in 1930 when Juan Carlos Ceriani devised a five-a-side version of soccer for youth competition in YMCAs.  The game is played on basketball-sized courts, both indoors and outdoors.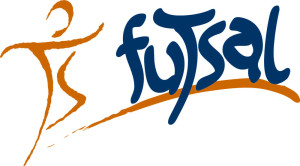 Once Ceriani got the ball rolling, Futsal gained rapid popularity throughout South America, particularly in Brazil.  The skill developed in this game is visible in the world-famous style the Brazilians display outdoors on the full-sized field.  Pele, Zico, Socrates, Bebeto and other Brazilian superstars developed their skill playing Futsal.  While Brazil continues to be the Futsal hub of the world, the game is now played, under the auspices of FIFA, all over the world, from Europe to North and Central America and the Caribbean, South America, Africa, and Asia and Oceania.
Why Futsal
The priority in Futsal is to motivate players in an environment that is conducive to learning. The more pleasure kids derive from their participation, the more they wish to play and practice on their own. While their instinct to play is natural, their affection and appreciation for soccer must be cultivated. Futsal is the foundation to such goals because it:
Allows players to frequently touch the one "toy" on the field, namely, the ball.      
Presents many opportunities to score goals and score goals often.
Encourages regaining possession of the ball as a productive, fun and rewarding part of the game (defending).
Maximizes active participation and minimizes inactivity and boredom.
Provides a well organized playing environment with improvised fields.
Reflects the philosophy of long term player development expressed in provincial and national coaching schools.
Eliminates complicated rules such as off-sides that may hinder youngsters from "playing".
Allows the game to be the teacher!
Boswin Laws of the Game
Balls
Boswin uses specially made size 3/4 futsal ball for the game. The futsal ball is heavier and 30% less bouncier than regular same size soccer ball and thus requires players to dribble more as they can't kick the ball far and the ball doesn't bounce.
Format of the Game
Players will practice with technical coaches for 15 minutes and then start the game.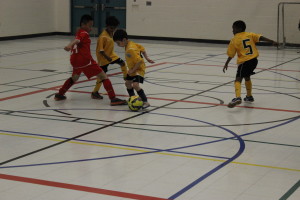 Laws of the Game
Unlimited "flying" substitutions (max. 6 Players on a Team)
No boundaries in the game (inside the hardwood floored gym)
20 minutes halves
Goal clearance (throw)
No shoulder charges or sliding tackles
4-second rule on restarts
No offside rule
Goalkeeper can't touch by hand a ball played back
Player sent off can be substituted for after 2 minutes or other has scored
BOSWIN CONCEPT, TRAIN AND PLAY AT COMPATIBLE LEVELS
Based on years of experience, our technical team designs a unique way to develop young soccer players through training and games. Each player is different and unique in regards to their skill levels, agilities, speed, endurance and body development. Each player deserves to have fun and enjoy the sport while he/she develops his/her own skills and plays games.
What is the best way to develop each player? Train and compete at compatible levels. Young players grow at different ages. For example, in any school class, you can find some students who may be stronger or taller than other students while other students are faster and smaller. The challenge for educators and trainers is to keep them challenged and developed through the trainings and games. That is where we kick in the new house league format, mix the different age group and assign each player to the teams based on their compatible levels.  While young players play at similar levels, they will be more motivated and try harder to improve themselves. If young players in their age group prove to be outstanding, they could be moved up to play with older age teams.
Throughout the season, players will follow Boswin Training Curriculum with our technical coaches before playing games so that they can apply the skills learned from training. All games will be small-sided games, 3 vs. 3. The goal is to challenge each player to think independently and have more freedom to play with ball skills, not only on attacking, but also on defence. At the same time, all players will build up their all-around abilities through season, speed, agility, and endurance, etc..
TECHNICAL COACHES:
The technical team will be led by Lu Ji, former professional player and experienced soccer coach.
Our technical coaches will be on hand at each game to stop the play and make technical adjustment to players as individuals or as a team. This will ensure that we are encouraging and developing the individual player along the way. Our technical instructors will be running the house league technical practices. All our technical coaches are experienced coaches, including former professional players, and NOT parent coaches.
Please note that the team coaches from the community will be the bench coaches that will coach the game following the Boswin House League Coach Game Guideline. Although our technical instructors will step in from time to time for a few minutes to make on-the-field corrections the team coaches will be coaching the game from the sidelines.
Uniforms and equipment:
Each player will receive a complete uniform (jersey, shorts and socks) with registration. Shin pads are required but not supplied. Indoor soccer or turf shoes are recommended, NO cleats allowed in indoor games.
This year, we will be at Hazel McCallion Senior Public School, 5750 River Grove Ave, Mississauga, every Saturday afternoon from October 1st, 2016 to May 13th, 2017. For registration, Click here