We are delighted to kick-off our outdoor Game & Training Development Program. This program will be centered on a player centric model. The games will be played via small-sided-games in our games. This is to ensure that AL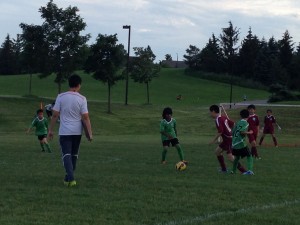 L players are involved in the game and fewer players are sharing the ball, which will allow more touches on the ball for each player regardless of body size or soccer experience.
BOSWIN WAY, TRAIN AND PLAY AT COMPATIBLE LEVELS
Based on years of experience, our technical team designs a unique way to develop young soccer players through training and games. Each player is different and unique in regards to their skill levels, agilities, speed, endurance and body development. Each player deserves to have fun and enjoy the sport while he/she develops his/her own skills and plays games.
What is the best way to develop each player? Train and compete at compatible levels. Young players grow at different ages. For example, in any school class, you can find some students who may be stronger or taller than other students while other students are faster and smaller. The challenge for educators and trainers is to keep them challenged and developed through the training and games. That is where we kick in the new game and training

development format, mix the different age group and assign each player to the teams based on their compatible levels.  While young players play at similar levels, they will be more motivated and try harder to improve themselves. If young players in their age group prove to be outstanding, they could be moved up to play with older age teams.
Throughout the season, players will follow Boswin Training Curriculum with our technical coaches before playing games so that they can apply the skills learned from training. All games will be small-sided games, 5 vs. 5 to achieve the optimal performance. The goal is to challenge each player to think independently and have more freedom to play with ball skills, not only on attacking, but also on defence. At the same time, all players will build up their all-around abilities through season, speed, agility, and endurance, etc..
FURTHER EXPLAINATION ON WHY SMALL SIDED GAMES ARE IMPORTANT:
Allow players to touch the ball more often, and become more skillful with the
ball at their feet. (Individual Technical Development)
Forces players not to just kick the ball. It also forces parents to NOT scream
"boot it" (Passing development)
Ensure players are more physically accomplished in the field space they are
playing in (Appropriate field size)
Allows players to have more individual coaching time with the technical
instructors, fewer players on the field will ensure this (personalized technical
skills instruction during the game)
Gives players the opportunity to have more involved playing time in the
game (more opportunities for players to think for themselves on the field)
Provides players with the opportunity to play both sides of the field (more
exposure to attacking and defending situations)
Last BUT not least, small sided games allows ALL players the opportunity to
score goals (the beauty of the game)
TECHNICAL COACHES:
Headed by our head coach, Louie Ji, the former professional soccer player and experienced coach, all Boswin coaches are trained and certified and most importantly, follow the same Boswin training curriculum.
Our technical coaches will be on hand at each game to stop the play and make technical adjustment to players as individuals or as a team. This will ensure that we are encouraging and developing the individual player along the way. Our technical coaches will be running the training and games. All our technical coaches are experienced coaches, including former professional players, and NOT parent coaches.
As partner of FC Porto, the European Powerhouse on soccer, Boswin will offer the Porto-Boswin Soccer Clinic hosted by FC Porto coaches from Portugo in summer time at minimal cost.
FIELD SIZE
All teams will play in outdoor 5 vs. 5 soccer field (2008 born or younger) or half of minor field (2007 or older)
GAME DURATION:
Girls & Boys, 1-1/2 hour(including 45-minute individual skill development training), 20 minutes halves and 5 minutes half-time break
Uniforms and equipment:
Each player will receive a complete uniform (jersey, shorts and socks) with registration. Shin pads are required but not supplied. Outdoor soccer shoes(cleats) are Must.